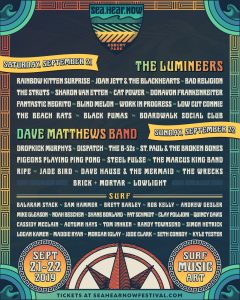 Asbury Park criminal defense attorney Tara Breslow-Testa
Over the weekend of September 21-22, the sea.hear.now Festival welcomed more than 35,000 people to Asbury Park. From sea to Shore, Asbury Park rocked and resonated with music from dozens of bands headlined by the B52s, the Dropkick Murphys, Joan Jett and the Blackhearts and the Dave Matthews Band. Lots of live music, but also a surf contest, art demonstrations, food and drink. 
The sea.hear.now Festival was the place to eat, drink, rock out and be merry – say goodbye to summer and hello to fall.
Some people might have drunk too much, rocked out to hard and got a little too merry, the kind of merriment that can land a festival-goer in municipal or superior court in the kind of trouble that can call for representation.
Disorderly conduct, underage drinking, public drinking and intoxication, using fake identification, assault, criminal trespass and many other violations. From low crimes and misdemeanors to felonies, the sea.hear.now can leave a trail of court cases long after the music and the good times fade away.
If you maybe had too good of a time at the sea.hear.now Festival and you've been arrested and charged and are scheduled for court and intend to show up, Asbury Park criminal defense attorney Tara Breslow-Testa is the first person you should talk with.  Ms. Breslow-Testa understands that Shore people can lose control at times, and she has many years experience dealing with aggressive prosecutors and annoyed judges – experience that can save you a great deal of time, money and long-term consequences when charged with summer crimes and misdemeanors: from possession of marijuana to bar fights.
Fall is sublime in New Jersey and you don't want to waste those days stuck in court – or in jail. To meet your court obligations and minimize stress, time and money, contact Tara Breslow-Testa at (732) 784-2880
DISORDERLY CONDUCT
Even at a peace and love festival like see.hear.now, conduct can get disorderly. The broad definition of disorderly conduct is behaving in a way that  "recklessly causes public inconvenience, annoyance or alarm." To paraphrase Vincent Vega in Pulp Fiction: "That's a broad statement" and disorderly conduct includes fighting, profanity in public, arguing, drunk in public, underage drinking, marijuana offenses, resisting arrest or harassment.
In one year, the City of Asbury Park issued 3,500 citations for disorderly conduct – that's almost 10 a day. That's a lot of disorderly conduct.
A judge hearing these cases for the City of Asbury Park can impose a fine of up to $1000 and a jail term up to six months – along with probation, community service, counseling and other diversions or programs.
P.S. Disorderly conduct cases are heard on Friday at 7:30 AM in the morning  at Asbury Park Municipal Court. If that doesn't sound like fun, it's not, and it will be even less fun if you try to represent yourself. Tara Breslow-Testa has worked both sides of the gavel, and she is who you want by your side when called to stand before the man.
CONTEMPT ON AN OUTSTANDING WARRANT
Sometimes being questioned by police for other criminal behaviors can lead to the discovery that a citizen has an outstanding warrant – usually for failure to appear in court for a previous arrest or traffic citation. 
The remedies for a citizen arrested for a failure to appear are detained in New Jersey Court Rules 7:8-9. A defendant arrested for contempt for an outstanding warrant will explain their failure to appear before a judge. The original charge for which you failed to appear will have to be resolved – public intoxication, a traffic violation. The judge may add an additional fine to the original fines. And the judge always has the option of ordering a higher bail or even time in jail until the legalities are resolved.
A defendant has to miss two scheduled court dates before a judge can issue an arrest warrant. And suspension of driving privileges is also an option until all court issues are resolved.
The issues for failure to appear can get sticky, requiring an attorney to reason with an angry judge. Tara Breslow-Testa is a criminal defense attorney for Asbury Park who has stood before dozens of angry judges, and eased the court into a resolution that causes the least stress for the courts and the defendant.
SIMPLE AND AGGRAVATED ASSAULT
People party, people drink, people have arguments and that can lead to fights. These days, when people fight, the question isn't "Who will get hurt?" It's "Who will get arrested? Who will be charged with assault? Who will get sued? Who will end up in court, and what kinds of jail time, fines and lawsuits will they face?"
Whether or not you fought to defend justice and be noble,fighting can lead to arrest and serious charges, fines, jail time and a permanent record. 
There is simple assault and and aggravated assault and the differences are subtle and significant – but those differences can seriously interfere with your life, your liberty and your pursuit of happiness.
SIMPLE ASSAULT
According to the 2013 New Jersey Revised Statutes Section 2C:12-1, "Simple assault" occurs when a person: 
Attempts to cause or purposely, knowingly or recklessly causes bodily injury to another; or

Negligently causes bodily injury to another with a deadly weapon; or

Attempts by physical menace to put another in fear of imminent serious bodily injury.
PENALTIES FOR SIMPLE ASSAULT
A simple assault conviction can bring a sentence of up to six months in jail, community services, and/or a fine of up to $1,000, restitution, and probation. A court can also order anger management classes, parole and probation, electronic monitoring, restitution to the victim and no longer being permitted to own firearms.
There are two categories of simple assault:
Typical Simple Assault is a Disorderly Persons Offense which can bring a sentence of up to six months in county jail and a fine up to $1000.

It is a Petty Orderly Persons Offense to be convicted of Simple Assault Involving a Mutual Fight or Scuffle. That can bring a sentence of up to 90 days in the county jail and a fine up to $500.
AGGRAVATED ASSAULT
Simple assault can be upgraded to aggravated assault based on a number of factors: Injury to victim, intent, recklessness, occupation of the victim and/or location of the offense. Aggravated assault is more complex than simple assault, and comes in degrees. 
PENALTIES FOR SECOND-DEGREE AGGRAVATED ASSAULT 
Second-degree aggravated assault can be punished with a sentence of five to 10 years in New Jersey State Prison and fine up to $150,000. Second-degree aggravated assault comes with a "presumption of incarceration:" first-time offenders are required to serve time in prison. New Jersey's "No Early Release Act" can require a convicted person to complete 85% of the imposed sentence before eligible for parole.
PENALTIES FOR THIRD-DEGREE AGGRAVATED ASSAULT 
Third-degree aggravated assault can result in a three and five year sentence in New Jersey State Prison and a fine up to $15,000. First offenses come with a "presumption of non-incarceration" meaning a defendant can avoid jail by enrolling  through enrollment Pre-Trial Intervention or other diversionary program.
PENALTIES FOR FOURTH DEGREE AGGRAVATED ASSAULT
Fourth degree aggravated assault carries a sentence of up to 18 months in New Jersey State Prison and a fine up to $10,000.
Fighting is dumb, fighting can be fun, fighting is irresponsible and sloppy – but this is Jersey and Fight Happens. If you get in a fight and end up in court, it's best not to fight it yourself. A criminal defense lawyer for Asbury Park, Tara Breslow-Testa is the fighter you want by your side.
MARIJUANA IS STILL ILLEGAL 
The Asbury Park police – and any judge who hears the cast – will not be shocked. Shocked! To learn that marijuana was illegally used during the sea.hear.now Festival. And it should not be a shock to you that the use of marijuana is still illegal in New Jersey. The laws they are a-changin' in New Jersey, but it is still illegal for an unlicensed person to use medicinal marijuana, while for recreational marijuana the the possession, consumption and distribution is still illegal in New Jersey – and these drug offenses are common around the time of the sea.hear.now Festival – and just in general along the Jersey Shore.
Marijuana is a Schedule 1 controlled dangerous substance in New Jersey, in the same league as heroin, acid, LSD, hashish, MDMA and psilocybin mushrooms.
Manufacturing, distributing, or possessing marijuana with intent to distribute can be first, second, third or fourth degree crimes, according to the New Jersey statutes N.J.S.A. 2C:35-5. The severity of the crimes depends on the number of plants or measured weight of the marijuana. 
It is a Fourth Degree Crime to possess less than once ounce of marijuana – punishable by up to 18 months in New Jersey State Prison and a maximum fine of $10,000.
It is a First Degree Crime to to possess 25 pounds or more of marijuana; or 50 or more marijuana plants; or hashish in a quantity of 5 pounds or more. Punishment is a sentence of 10 – 20 years in New Jersey State Prison and a maximum fine of $300,000.
If you are charged with possession of marijuana Tara Breslow-Testa is a criminal defense lawyer for Asbury Park who you want by your side.  Tara Breslow-Testa has defended dozens of marijuana possession cases, she knows that mistakes are made, the ins and outs and loopholes, and she will help you steer your way through the New Jersey courts – for the best result
BETTER CALL TARA
If you attended the see.hear.now Festival and the New Jersey Municipal Court send you a summons to Be Here Now!, you should take it seriously. 
Abraham Lincoln once said: "He who represents himself has a fool for a client." And that could be true. To avoid all that, Asbury Park criminal defense lawyer Tara Breslow-Testa is the person you want by your side when called to court for getting a little too rowdy rocking out to the B52s and Dave Matthews.. 
To take some stress out of criminal charges, contact Tara Breslow-Testa at (732) 784-2880